Osteopathy
Katherine Terry (Hands on Care)
Therapy Services Offered:
• Osteopathy
About Therapist
I graduated in 2010 from the European School of Osteopathy in Kent, after completing a four year degree course, similar to a medical degree but with the emphasis on musculoskeletal medicine.
I have always been interested in the anatomy and physiology of the human body. After observing how Osteopathy benefited a young relative, I decided to pursue Osteopathy as a career. Prior to my Osteopathic training I worked, and gained qualifications, in the horse industry as a Riding Instructor and Stable Manager. As such I have a particular interest in treating horse riders and I am keen to hear about problems they experience when riding. Often, when a horse does not appear to be "going well", the problem lies with pain, stiffness, or imbalance in the rider, not the horse.
I particularly like working with patients who suffer from headaches. Quite often a patient mentions headaches during the case history not realising we might be able to help. We often can and it is very satisfying when symptoms reduce or disappear. I also especially enjoy working with older patients and helping them to stay mobile and active.
Since graduating I have undertaken further training in Western Medical Acupuncture (or Dry Needling) and Dynamic Taping among many other training courses as part of the required "continual professional development" which we undertake every year. I am also a qualified Sports Massage Therapist.
I established Hands on Care Osteopathic Practice in 2012, basing it within the Wessex Health Network, which is a warm and welcoming environment. I have expanded Hands on Care and now have two lovely associates working alongside me. I also continue to work in Wimborne two days a week from Wimborne Osteopathic Practice.
When I am not at work I enjoy the outdoors and, time permitting, enjoy a range of hobbies including indoor climbing, windsurfing, horse riding, mountain hiking and dog walking. I am also a keen, but novice, gardener. Since starting gardening I now understand why so many of my patients come to me with gardening related complaints! I have three chickens who assist me in the garden with pest control.
My dog is called Rufus, he is a Hungarian Wirehaired Vizsla. We do obedience and gun dog training as well as Canicross (running with your dog on a harness which is attached to you).
In 2016 I started running following the "Couch to 5k" program. I never thought I would be a runner but this program made it so achievable and I highly recommend it. From there I joined a running group and was talked in to having a go at triathlons.
MIRACLES DO HAPPEN I was diagnosed in 2017 with severe sciatica, prescribed strong pain killers and placed on a waiting list to see a surgeon. Towards the end of the year, the pain became unbearable, whereby I wasn't able to sit, stand or sleep. In desperation I looked up local osteopaths and found Katherine at Hands on Care. At the first appointment, Katherine went through my history, asked questions and started treatment. Katherine explained very clearly my problems and how she proposed dealing with them. She worked to my pain threshold and was sympathetic to my abilities, and I always felt relaxed and calm during my sessions with her. I have now had four treatments with Katherine and am amazed at the change. I no longer need the pain killers and am able to sit, stand and sleep. I cannot recommend Katherine highly enough; she is approachable, passionate and committed. And miracles do happen. Thank you Best wishes" L.Webb
Contact Therapist
✉️  katherine@handsoncare-osteopathy.co.uk
🌐  www.handsoncare-osteopathy.co.uk
Visit Therapist Website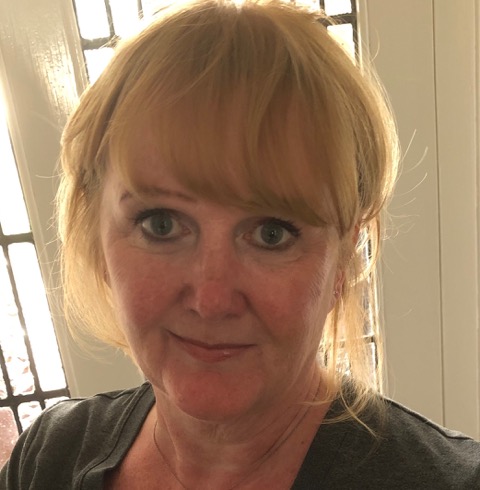 Lorna Dryer (Hands on Care)
Therapy Services Offered:
• Osteopathy
About Therapist
I grew up in a health and sports environment and have always been keen to make a firm footprint in the environment of instilling health, fixing health and maintaining health, both physically and emotionally.
It has taken a little while to get there, as I embarked on a career in advertising in London for 13 years first. But then after having had lots of osteopathic treatment for low back problems from many falls off of horses, knowing how much it helped me, I decided I wanted to change my career and work up to becoming an osteopath myself. Initially, 9 years ago, I trained in holistic massage, sports massage and remedial therapy, as my husband worked in London and I had two young boys and not much time to devote to a 5 year course. Then as time allowed, I embarked upon a degree in osteopathy and have been qualified for just over 2 years.
I would dearly love to have dogs in my life again, especially as my boys have grown up with the youngest about to go to university but for now it's cats and chickens, who are able to sort themselves out during the day and then pounce on me for food and attention when I get home.
When I'm not chasing the chickens back into their coup, I love gardening and the constant learning about plants and veggies. Swimming, tennis, pilates and yoga also play an important part of my life, and my goal one of these days is to start Stand Up Paddle Boarding.
"Lorna has been treating me for sever neck issues. Not only has it been extremely painful but has given me vertigo as well! Lorna has been nothing less than life changing for me. She fully understands the problem I have and literally is able to put her finger on it! After only one treatment the difference was incredible. She listens, supports, empathises and has such a wonderful kindness I could not recommend her more highly." Samantha
Contact Therapist
✉️  lorna@handsoncare-osteopathy.co.uk
🌐  www.handsoncare-osteopathy.co.uk
Visit Therapist Website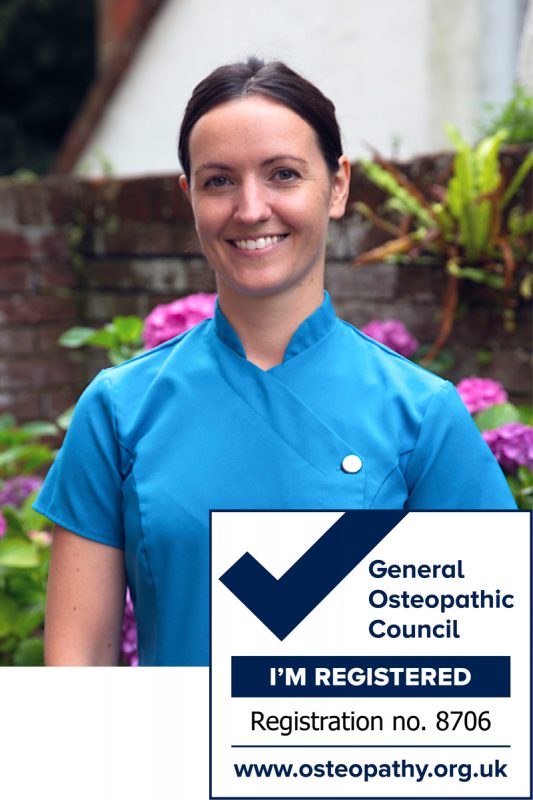 Michelle Hancock (Hands on Care)
Therapy Services Offered:
• Osteopathy
About Therapist
I am a fully qualified and registered osteopath with a masters degree from the British School of Osteopathy. Over my seven years treating patients of all ages, from infant to elderly, I have developed a special interest in pain science and education for patients with reoccurring and chronic pain. Patients come to see me with neck, back, shoulder, hip and knee pain, alongside many other musculoskeletal complaints. I use gentle hands on techniques and advise patients on how to prevent/manage future occurrences. My passion is to get patients moving again and enjoying life.
I have recently become a mother to a little girl, which has given me a renewed appreciation of women's health and recovery following childbirth. I can now speak with experience when advising new parents on helping settle baby into the world.
Outside of osteopathy I enjoy the outdoors as much as possible. Living in the New Forest, I love running with my dog and baby in the buggy, walking the British coastal paths, and improving my open water swimming with the hope of taking my daughter out with me one day!
Contact Therapist
✉️  michelle@handsoncare-osteopathy.co.uk
🌐  www.handsoncare-osteopathy.co.uk
Visit Therapist Website